I've been seeing a couple bloggie friends out there posting what they're thankful for on Thursdays. And with the amount that I've been up and down, and up and down lately I figured that I better stop and write about what I'm thankful for too.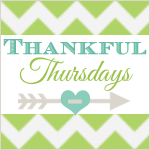 So this week..
I'm Thankful - that even though it's rather chilly in my house, I have a roof over my head and warm clothes to wear.
I'm Thankful - for my blogging, that it gives me opportunities to do things with my family that I would otherwise not do. 4 tickets tonight to see Disney on Ice. My youngest is so excited!
I'm Thankful - for my family knowing that I LOVE my $2 Starbucks drinks(coffee and tea only, no $5 lattes unless it's a freebie reward drink) and gifting me Starbucks cards on holidays/birthday. I appreciate that my drivethru drinks are almost always 'free'.
I'm Thankful - for the awesome Londonmom that gifted me 2 bags of clothing. She could have just donated to Goodwill, but she took the time to ask if anyone wanted them first. They fit me wonderfully, and I wore some great stuff this week.
I'm Thankful - for my part time job. I hard a hard time remembering that last week, but so many don't have jobs..and I've been there..so I am thankful.
I'm Thankful - that my girls are going on a sleepover to gramas friday night. I could really use a re-connect/date night with the mr. (which then makes me thankful for the gift coupon for the 'movie night out'..it includes admissions AND snacks! another awesome gift from family!)
And lastly..Thank you so much
Joy
for reminding me to participate in #ThankfulThursday. You're an awesome friend.
If you want to share what you're thankful for too..come on over and link up
HERE
!