There are so many wonderful features to Curvelle's award-winning 110′ power catamaran M/Y QUARANTA, that it's almost hard to know where to start.
Perhaps what makes this yacht so outstanding is the six convertible staterooms, which convert easily from six twins to six doubles, or to three vast suites with sitting rooms and ensuite bathrooms. The versatility this layout offers for family charters, corporate events, or private groups is simply impossible to beat.
Perhaps it's the incredible design feat of having all six staterooms on deck with huge panoramic sea views, or that all staterooms can be arranged equally in size – removing that old tension of who gets which cabin on shared charters!
Maybe it's the sheer size of M/Y QUARANTA that makes it so special, with the catamaran hulls providing an interior and exterior volume normally reserved for much larger yachts. The spacious interior is put to excellent use, with a beautiful contemporary design of crisp white furnishings and chocolate brown leather, Macassar ebony, and a spectacular wood and stainless circular staircase curving through the yacht's center.
Perhaps it's the three superb dining and entertaining areas, meaning each exquisite meal from QUARANTA's private chef can be enjoyed in a different setting. The first dining table is found on the upper deck, in a stunning indoor-outdoor space with sliding doors on three sides that open to the sunshine and sea breezes, while offering all the contemporary elegance of a formal dining space.
Al fresco dining is at its stunning best on the ultra-modern sundeck, where a sleek 12-seater dining table sits under a canopy suspended by columns. This setting is incredibly atmospheric, particularly at night, offering stunning panoramic view of stars and sky.
This being M/Y QUARANTA, it should come as no surprise that the dining tables on board are also convertible, with the option to downsize them to suit smaller groups, or turn them into a bar to free up space for a dance floor.
The final dining area is located on the foredeck for casual meals or canapés and cocktails, and this area can also be converted into two large sunpads for soaking up the sun and views while the yacht is underway to the next exotic destination.
The treats don't end there. The huge sundeck also has a raised Jacuzzi, which is reached by steps framed by columns, and flanked by a soft sunken sunpad area, with more sun loungers nearby.
Yet it's down on the waterline that this yacht really surprises, with a hydraulic swim platform which can be lowered into the water to either receive the tender, allow guests to 'swim on' for easy access, or serve as a platform for guests to lie on deckchairs partially submerged in the water on hot days. There's even a bubble setting so guests can relax in this sea pool area and feel like they're in a spa!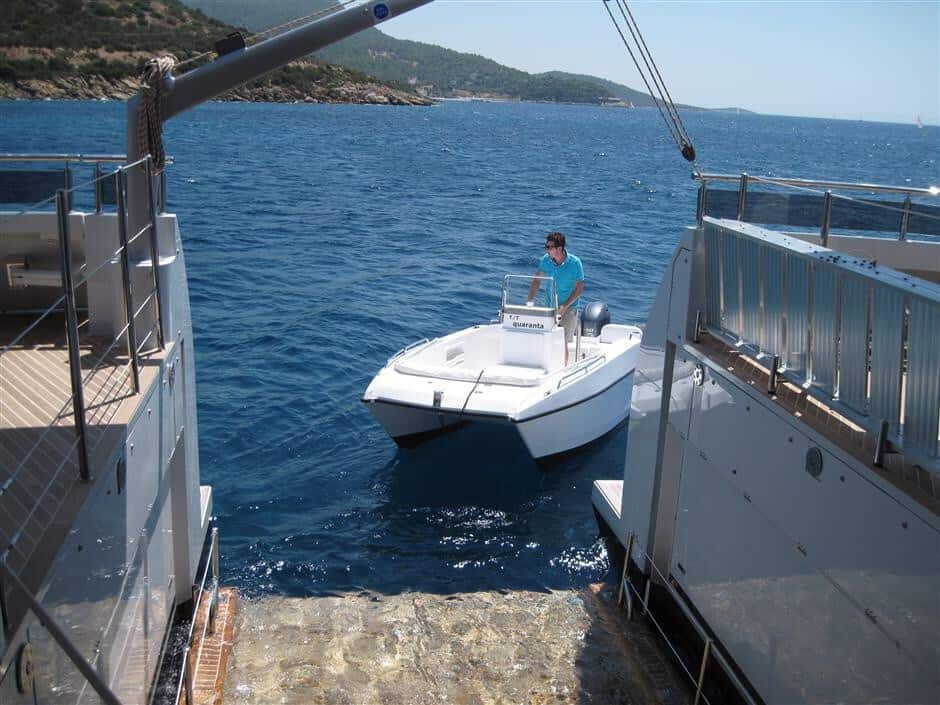 M/Y QUARANTA is a magnificently versatile yacht, with so many clever design features that she instantly won six international design awards upon launch in 2013. QUARANTA is currently in Monaco and is listed for sale with an asking price of €8,500,000. Visit brokerage Worth Avenue Yachts direct for more information on this spectacular power catamaran superyacht, or to discuss any of the other luxury yachts for sale worldwide.